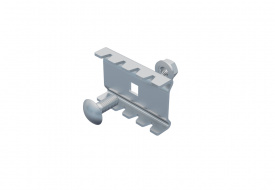 The SZM 1 mesh tray coupler is the general splice of the MERKUR 2 system. It is used for joining the mesh trays of a cable route. The coupler set consists of the body - a strap plate (A), carriage bolt M6x16 and collar nut M6.
| | |
| --- | --- |
| T (plate thickness) | 1,5 mm |
| | |
ZZ (ARK-223010)- connecting element options:
0 - cold galvanized (GZ)
2 - geomet 500 (G5)
3 - stainless AISI 304 (A2)
Correct location of coupling sZM 1
The correct location of the couplings on the side wall of the mesh tray is important for achieving the declared load capacity as well as the optimum stiffness of the assembled mesh tray, as shown in the figures. It is of essential importance in particular for mesh trays with 100 mm height of the side wall requiring the location of the junction piece directly under the upper margin of the tray.