Introducing the Company
ARKYS, s.r.o. is a Czech company, established in 1997, currently with more than 80 employees. It has become the prime manufacturer and supplier of wire mesh trays in the Czech Republic.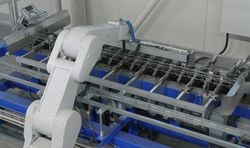 Its successful activity on the market comprises exceptional effort, logistics growth and development of the manufacturing process itself. Lately, the production plant and warehouse have considerably expanded. Modern production and assembly lines have been installed and the warehouse capacity and logistics process are now optimized to answer our customers' needs.
Main office
ARKYS moved to a new office building in the administrative center AREAL SLATINA in January 2017. Company management, the sales department, logistics, marketing and finances are now located here. The premises offer excellent opportunities for business activity, logistics coordination and improved customer service, all that with the contribution of our new colleagues.
Manufacture - MERKUR 2 assembly line
Our production of wire mesh trays and accessories does not depend on any subcontractors which is a crucial advantage. We benefit from our own technology, our own production plant with experienced staff, together with our own galvanic plant for electro-galvanizing.
For MERKUR 2 mesh tray manufacture we use a fully automated production line, the LKZ 750. The production line machines and operating software are provided by Bosch Rexroth Electric Drives and Controls GmbH. Among others, it uses the latest technology of medium-frequency welding, widely used in the automotive industry. This modern and sophisticated welding method needs no accessory material, unlike "classic" low-frequency welding. Its other features also make this method superior to the classic one: the welding transformer, supplied over a medium-frequency converter, provides direct current without any induction losses, thus delivering fast and precisely defined amounts of energy to the point of the weld joint.
Enabling very dynamic regulation of the welding process, it also affects the final quality of the weld joint. This method is very speedy (the duration of the welding cycle is in the order of milliseconds). The surrounding material does not warm up, which significantly reduces losses, additional tensions and material distortion during the cooling down period. Mesh tray accessories (brackets, holders, straight brackets…) are produced using a high-speed FeiCut CNC fibre laser and a highperformance Mitsubishi electric industrial robot. Thanks to these machines, we are flexible regarding customers' requests - as regards exact dimensions of products or higher production capacity.
Production – electro-galvanizing plant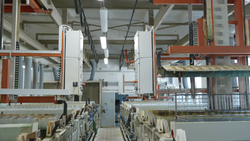 Once manufactured, steel mesh trays and accessories are subjected to surface finish treatment. ARKYS produces and sells electro- galvanized, pre-galvanized and hot-dip-galvanized wire mesh cable trays and accessories. Stainless steel AISI 304L and 316L (with passivation) finishes are also available. Electro-galvanizing takes place on our own premises, the galvanic plant being one of the most ultra-modern, large-capacity lines in the Czech Republic.
Electro-galvanizing is the most frequently used mesh tray surface treatment, mostly due to the fact that such wire mesh trays are usually installed in non-aggressive environments of building interiors where electro-galvanizing finish shows most benefits (for more details, please refer to p. 15 – 17 "Anticorrosive protection…"). Hot-dip-galvanizing is contracted out by our external long-term partner. Stainless steel wire mesh trays are made of chromiumnickel austenitic steel (AISI 304L and 316L). As the final treatment, stainless products receive additional protection called passivation, which makes the surface homogenous and enhances its anticorrosive qualities.
Warehouse
Considering our long-term sales policy and company philosophy (we prefer to have MERKUR 2 products in stock), we decided to enlarge our warehouse. We were also motivated by our clients' call for rapid deliveries. If all surface finish options are taken into consideration, it is obvious that all wire mesh trays and accessories require more than 1800 pallet positions, which are now available in the ARKYS warehouse. A "rolling shelf" system has been installed to make the process more effective and organized. These improvements help us to dispatch orders with no delay nor disruption of the scheduled production plan. To sum up, ARKYS s.r.o. represents a complex partnership for all our customers - wholesale, assembly crews, architects; from business solution proposals to final material delivery.